Do you have cancer? In Médica Sur we have the best treatment for fighting cancer. Read on and learn more about this new method.
We know you are looking for a treatment with the highest degree of precision, and a place where you get human and warm treatment, in which are put first your needs and concerns.
To satisfy your concerns and treatment needs, we offer you our oncologists and radiotherapy services unit, which uses more precise equipment that technology, can offer for your health.
With us you can take the necessary time to discuss your medical options and answer your questions. We are used to form an excellent partnership with your doctor and give the required reports on the strategy and progress of your treatment.
We are located in Tower 1 basement of the Hospital, in Médica Sur Tlalpan facilities. Visit or write us at: contactanos@medicasur.org.mx.
Radiotherapy is ... Your best ally in the fight against cancer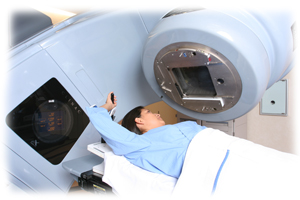 Treatment to destroy cancer cells uses a form of energy known as ionizing radiation.
The patient is radiated with the energy in the tumor area, damaging the genetics of cancer cells by preventing the continued reproduction. With this, the tumors stop growing, can reduce its size or disappear completely.
About 80% of cancer patients undergo this treatment and its purpose is reflected in three aspects: used as an element in the fight against cancer by destroying cancer cells, prevent the birth of cancer cells, and as a palliative against the pain, making the tumor shrink.
Treatment like this, takes between 5 and 7 weeks, so within that period, the dose of radiation concentrates better in cancer cells and damage to healthy tissue is minimized.
Because there are different types of cancer, various types of radiation, each one of them is used depending on the circumstances as each patient's health:
Intensity Modulated Radiation Therapy: allows higher levels of radiation concentrated to the tumor, and lower intensity are directed to areas where the tissues are healthy.
Three-dimensional radiation therapy: the doctors use MRI and CT to create a representation of the shape of the tumor in three dimensions and using a specialized computer system, they make radiation on the tumor more precisely.
Conventional radiation therapy: radiation is emitted in two dimensions (length and width), with the same intensity and in a limited range of angles. Is most suitable in most cases.
This service can be found in our Médica Sur Tlalpan facilities as part of the Comprehensive Cancer Centre.
Unidad de Radioterapia del Centro Oncológico de Médica Sur
Probablemente visitas nuestro sitio porque tú o alguien cercano ha sido diagnosticado con cáncer y están considerando la opción de recibir radioterapia.
Sabemos también que buscas un tratamiento con el más alto grado de precisión, y que deseas recibir un trato humano y cálido, en el que se pongan en primer lugar tus necesidades y preocupaciones.
Para dar satisfacción a tus inquietudes y necesidades terapéuticas, ponemos a tus órdenes los servicios de un grupo de oncólogos especialistas en radioterapia, que emplea los equipos más precisos que la tecnología es capaz de ofrecer en favor de tu salud.
Con nosotros puedes tomarte el tiempo que sea necesario para analizar tus opciones médicas y aclarar tus dudas. Estamos acostumbrados a formar una mancuerna con tu médico de cabecera y a darle los informes que requiera sobre la estrategia y el avance de tu tratamiento.
Te damos la bienvenida.
Teléfonos: 5424-7238 y 5424-6838
Correo electrónico: radioterapia@medicasur.org.mx.
Horarios de programación de consultas y tratamientos: de 7:30 a 21:00 hrs. de lunes viernes y de las 7:30 a las 13 hrs. los sábados.